Craftable Waypoints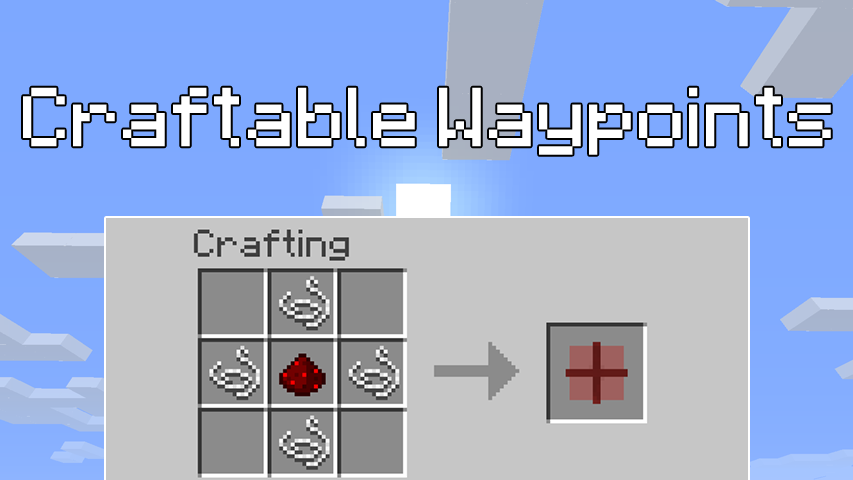 Main Features
Craftable Waypoints mod adds survival-friendly waypoints into your Minecraft world.
With this mod, waypoints can't just be created anywhere at any time like in most waypoints mods, you will actually have to earn and craft them using the all-migty crafting table with redstone and strings. This gives waypoints actual value as well as additional use for dyes, strings, anvils and player experience.
This mod is 100% multiplayer compatible and can be installed on a Forge 1.8 server.
Install Guide
Start the version of Minecraft that you're going to install the mod for at least once.
Go to the official Minecraft Forge website: http://files.minecraftforge.net
Download and run the recommended installer for the needed Minecraft version (1.10.2, 1.9.4 etc). This should create a new "forge" profile in your Minecraft client if this is your first time using Forge (to change which Forge version to run you'll have to edit the "forge" profile).
Start Minecraft with the "forge" profile at least once.
Now middle-click (open in a new tab) the download button below, choose the latest version of the mod for your Minecraft version and click "Download (.jar)". Wait 5 seconds and click "skip ad" in the top-right corner of the page.
Go to "C:/Users/YOUR USER/AppData/Roaming/.minecraft/mods" or to an equivalent on other OS'. On Windows you can open the "AppData" folder by pressing windows key + R and typing in: %appdata%
Find your way into the "mods" folder as described in the previous step.
Put the mod jar you've just downloaded in the "mods" folder. You can now install any mods compatible with your Forge version by putting them in this folder.
Start your minecraft launcher and start the game using the "forge" profile.
If you are still having problems getting the mod to work, contact me. Contact info is available in the sidebar.